The Pavilion

Pavilion Summerhouse Description
The Pavilion is a real center piece garden shed. With fabulous elongated windows that allow ample daylight in and decorative canopy. This shed is extremely aesthetically pleasing in any setting. In addition the Pavilion comes in both painted and unpainted options meaning it can be customised to suit its surroundings.
This summerhouse can also be married with the Combination configuration offering you an extremely stylish shed that also offers endless storage options. The Combination configuration gives you an area to relax and unwind whilst also offering ample space for necessary storage.
Many people who are renovating an existing home or have a new build like to carry a colour theme through their house and out into to their garden. This allows the Garden Shed to feel almost like an extension of the home. With the colour options available we at Boyne Garden Sheds allow you to do this. If you have a particular colour scheme in mind and have the paint name or RAL number we will do our utmost to colour match at no additional cost.
Check our our Gallery for further ideas. We update it regularly with some of our most recent deliveries to showcase all the options available both in design and customisation options. Boyne Garden Sheds also have Facebook, Instagram and Twitter all linked on the right of this page.
Have no fear that if you opt for the Pavilion/Combination Shed you will be the envy of all your neighbours.
Supplied as standard
Smooth pressure treated or spray painted shiplap panels

Solid boarded pressure treated floor and sub-frame base

Black door fittings

Internal waterproof liner

1 pair of double doors with inset pavilion windows

Pavilion window on each side of the double doors

Overhanging canopy

Scalloped fascia

Window boxes
Optional extras
Side panel windows

Guttering

Shelving

Internal panelling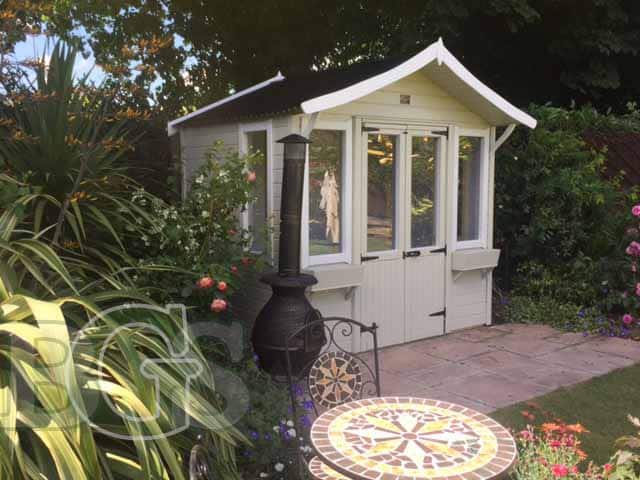 See some of our customers sheds on our instagram